Containers for large volumes and loads SL 86
Extremely durable, for loads up to 500 kg.
The large volume and high-load containers series BITO SL 86 is outstanding in all areas of application. This large volume and heavy duty container size (800x600mm) is ideal for storing large or heavy goods during production, storage or picking with a load capacity of up to 500kg. Front opening container width with door opening half way. The container offers maximum access to the goods inside. A specially developed colour concept makes it easy to identify these large containers and their contents.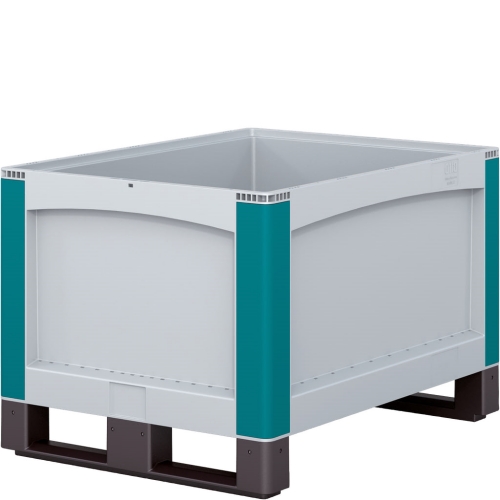 Containers for large volumes and XL loads
The BITO XL large volume containers complement the storage container series BITO XL with an increased base size of 800x600mm and are designed for storage of contents weighing up to 200 kg. The dead weight of this container is very low, but it is extremely durable. The stacking capacity of the container is 800 kg. Depending on the application and requirements, these containers are available in five different heights (120mm, 220mm, 320mm, 420mm and 520mm), allowing optimum use of available storage space. This container has the ability to be fitted with rails for transport by forklift or lift truck, making it a lightweight and modern container for handling. The handles of the BITO XL plastic containers are rounded and equipped with a comfortable hand support, making it easy to carry and drag even fully loaded containers. If desired, the container can also be supplied with a dial opening. Depending on the customer's needs, the opening can be on the long or short side of the container.
Containers for large volumes and cargo MB
The BITO MB large volume and cargo containers complement the rest of the BITO MB series of stackable, large format 800x600mm containers. Optionally, the container can be equipped with guide rails, making it compatible with forklifts and pallet trucks. Smooth interior and exterior walls prevent dirt build-up and are easy to keep clean. Made from high quality plastic, these containers will withstand everyday wear and tear and enjoy a long service life. What's more, they will accommodate large loads both in fixed locations and on the move, making them an ideal choice for warehouses with limited floor space. Containers can optionally be supplied with a hinged lid. The lid can be securely fastened with disposable seals, thus protecting its contents from unauthorized access and potential damage during storage or transport. The empty BITO MB bulk and cargo containers stack perfectly into each other. This allows to reduce the volume and storage area required for empty containers by up to 70%, saving warehouse space and high storage costs.